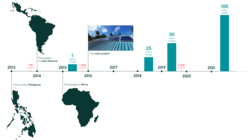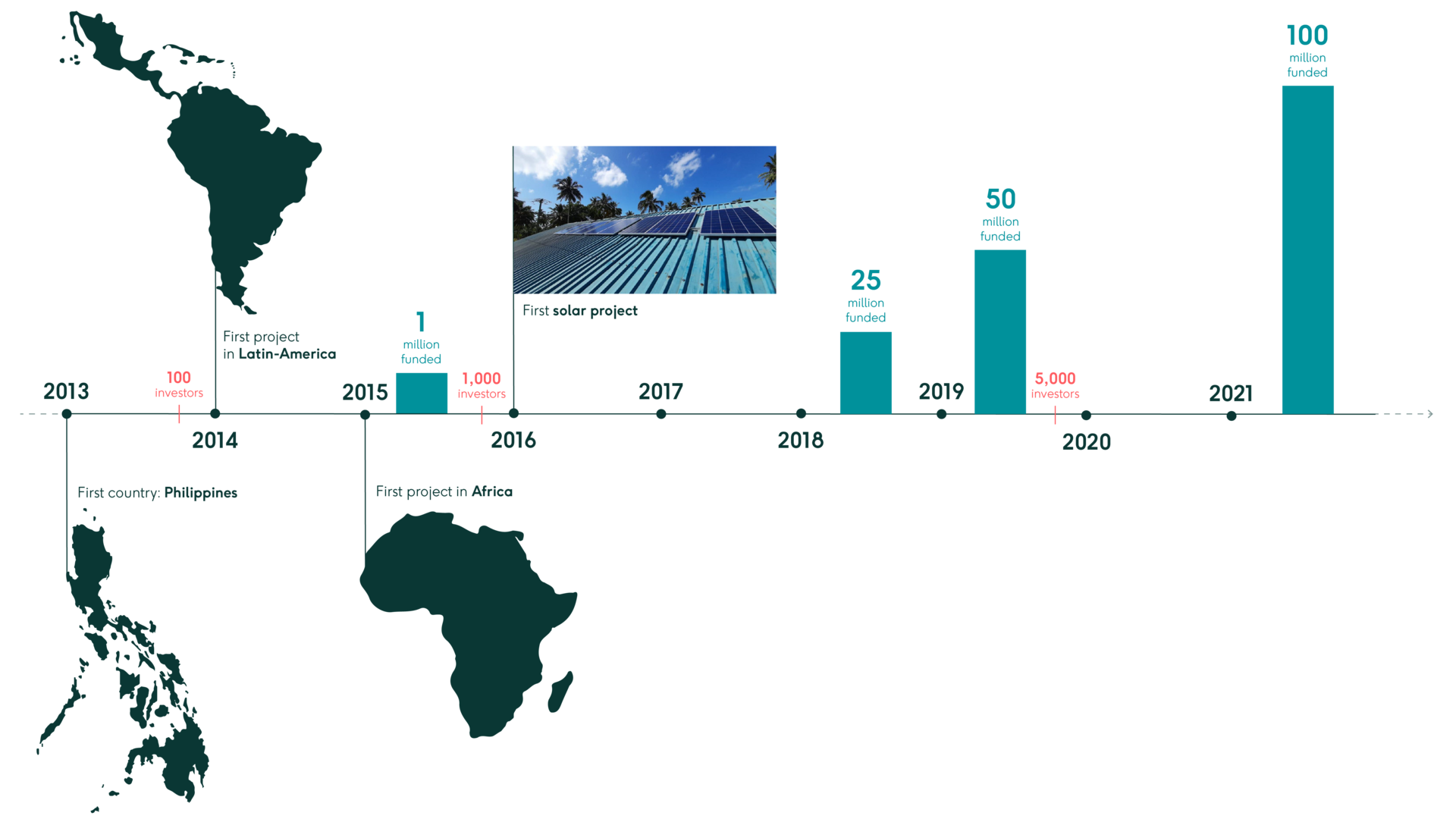 5 Surprising Insights from the Impact Report
Written by Lynn Hamerlinck on 29 August 2022
100 million euros invested in 2,993 projects. 46 partners in 21 countries. 8,000 European impact investors who together created 9,520 jobs. This is a glimpse of what 8 years of Lendahand looks like in numbers.
How do you translate such numbers into tangible impact? Do these results contribute to this better world our crowd invests in and the Lendahand team gets up for every day?
All of Lendahand's results are featured in the Impact Report, showing the impact made from the start in 2013 to December 2021 and for 2021 specifically.
We've listed the five most surprising insights from Lendahand's first Impact Report below.
From 1 to 100 million
On the timeline, you can immediately see that the number of invested euros is making a couple of jumps. After two years, Lendahand reached the first million in investments through the platform. After that, the volumes crowdfunded by European investors into entrepreneurs in developing countries increased rapidly making Lendahand reach 100 million euros in investments in five years' time. Adding some larger companies and microfinance institutions to the portfolio enabled larger volumes for the crowd to invest.
The next goal is to hit the €1 billion milestone in 2026.
Over 10,000 new jobs in developing countries
By mid-2022, we achieved a very tangible result: more than 10,000 jobs have been created through the crowdfunding projects on our platform.
Lendahand's philosophy is that job creation is the most powerful weapon against poverty. A decent job with a stable income makes the local economy stronger and ensures that families have access to education, good food, a home, and so much more. Who knows, they may even manage to save for an unexpected expense or the future.
This should've been more: 8,000 investors
'If investing is about securing the future, then the success of an investment should not be measured by financial return only, but also by the impact it creates on the planet and people.' Following Lendahand CEO and co-founder Koen The's thoughts, why isn't everybody impact investing yet?
The Lendahand crowd has shown itself to be committed and loyal to the cause. Without investors there would be no crowdfunding platform as there is today. How can we make sure the message gets passed on and more people get into impact investing?

Who would you recommend Lendahand to? You can help the platform grow with a review on The Feedback Company and by forwarding your referral code. You can find yours in the Financial Dashboard of your Lendahand account. For every person who uses your code, you both receive €25 investment credit.
CO2 reduction: a two-sided story
As a social enterprise and B-Corp, we continue to work diligently on our climate commitment for COP26. One thing is to ensure that our company carbon footprint remains as small as possible. Another is to use the projects on Lendahand to enable investment in climate change solutions.
What we offer is what you can use to make your impact, and we have to dare to remain critical about that. Through Lendahand projects, some 125,306 solar home systems have already been installed in houses where people would otherwise have no access to clean electricity. This changed their lives completely.
The social impact of solar home systems is undoubtedly positive. But what about the environmental impact of these devices? MSc Max Steenbrink delved into this question as part of his thesis research for Lendahand (read here).
The faces behind 2,955 projects
Behind every Lendahand project are one or more entrepreneurs. Real people, each with their unique story. It is their stories that reveal what an investment in their business makes possible.
There's Florence, for example, who sells drinking water in her neighborhood in Kampala. Thanks to lease-to-own, she was able to purchase a larger tank so she can help more people get drinking water. With the extra income, her children can go to school and she can save to purchase a home of her own.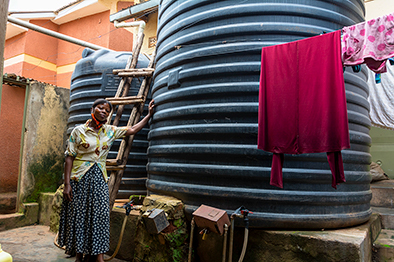 And Farida, who owns a small farm in rural Kyrgyzstan. She was able to buy a cow with a microloan from financial institution Bailyk, which allows her to sell milk and generate an extra income.
Watch her story here:
Learn more about the different themes within Lendahand in the Impact Report.
Ready to start making social returns with investments on Lendahand? Create your free account today and start right away.