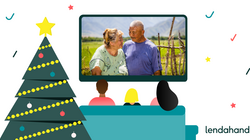 To watch: 7 alternatives to Christmas movies for impact makers
Written by Lynn Hamerlinck on 22 December 2022
One tradition during the holiday season is to curl up on your couch and watch classic Christmas movies. But maybe you had enough of watching the same movies like Home Alone or Love Actually? Then we are here to help. Here's your alternative list of movies, specially put together for impact makers.
1. Did you invest in solar energy projects from borrowers such as Sollatek and d.light, or innovative clean energy projects from Roam? Then The boy who harnessed the wind is our top suggestion. The movie tells the story of 13-year-old William, who saves his Malawian village from famine after a science book inspires him to build a wind turbine.
You can watch 'The boy who harnessed the wind' on Netflix.
2. With our agricultural borrowers who offer support to smallholder farmers and cooperatives in mind, such as Cafe Peru in Peru and Yak Fair Trade in Rwanda, you might enjoy La Odisea de los Giles. It is an Argentinian drama-comedy about a group of people who form an agricultural cooperative just the day before the Corralito in Argentina.
You can watch 'La Odisea de los Giles' on Amazon Prime.
3. Outside of emerging markets and developing countries, yet giving a good view on the importance of financial inclusion and opportunity, is Will Smith's The Pursuit of Happyness. As a homeless single father, he invests in a better future by trying to sell a machine nobody needs and working hard for a better life.
You can watch 'The Pursuit of Happiness' on Netflix or HBO.
4 & 5. Focussing on gender equality by reaching more female entrepreneurs is essential to fight poverty globally. Here are two movies about female entrepreneurship and the cultural barriers women have to fight to reach their potential.
Queen of Katwe tells the story of young Phiona Mutesi (Lupita N'yongo), a girl living in a slum in Kampala, Uganda, whose talent for chess changes her life forever.
You can watch 'Queen of Katwe' on Disney+.
In Miss India, an aspiring Indian entrepreneur is confronted by disapproval, sexism, and rivalry as she draws from culture to start her tea business.
You can watch 'Miss India' on Netflix.
6. The documentary Softie tells the story of political activist Boniface Mwangi while he runs for office in a Kenyan regional election. His activism puts pressure on his young family and his convictions.
You can watch 'Softie' on Amazon Prime.
7. Our last recommendation also comes from the African continent. In Stop filming us, a Dutch filmmaker engages young Congolese artists as they reckon with the ongoing disparity between biased Western reporting and their true culture.
You can watch 'Stop filming us' on Netflix.

That's a wrap. We hope you are inspired and enjoy these alternative movies during the holiday season.