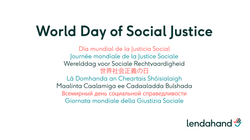 A Call for Social Justice in the Digital Economy
Written by Lynn Hamerlinck on 20 February 2021
Today marks Social Justice Day, a global observance date by the United Nations to encourage people to look at how social justice affects poverty eradication. International days can be a powerful advocacy tool to shed light on global problems and mobilize the public on issues of concern. This year's theme is A Call for Social Justice in the Digital Economy, a topical subject, as many of us work digitally due to the pandemic.
The Social Justice Revolution
Justice is the concept of fairness. Social justice is fairness as it manifests in society, including healthcare, employment, housing, and access. In the early 19th century, the Industrial Revolution and civil revolutions throughout Europe aimed to create more equality in society and remedy human labor capitalistic exploitation. Early social justice advocates focused on capital, property, and wealth distribution to break the layer between the wealthy and the poor.
By now, social justice has expanded and depends on four interrelated principles: human rights, access, equity, and participation. There isn't one clear framework for what successful social justice looks like in practice, but as long as it is valued and we remain committed to equality, progress is possible.
Equality in the workplace
Systemic racism and social injustice still occur worldwide, also right where we are. Have you ever felt looked down upon because of your social situation? Or have you seen people in the workplace dealing with these issues? Did you know only 4% of businesses focus on making offerings inclusive of disability?
COVID-19 is highlighting racial, gender, and disability gaps. As we reopen businesses and return to the office, we have the opportunity to shift towards greater diversity, inclusion, and equality. Join the movement and step up to remove barriers people face due to race, age, gender, ethnicity, culture, religion, or disability. Ingka Group (the parent company of IKEA) already took action by committing to "achieving equal pay for work of equal value by the end of 2021, as well as reaching 50/50% gender balance in every unit, level, board, and committee."
Another form of action taking happened just last year when George Floyd was killed. Companies worldwide started supporting the Black Lives Matter movement to end systemic racism and injustice. Take Nike for example, who changed its iconic slogan to "don't do it."
Striving for digital equality
The digital economy has been growing since remote working has become the new normal for many of us. Although this brings many benefits, it has also resulted in an increasing inequality between developed and developing countries. Many people do not have internet access, as it is either unaffordable or just not available.
"Facilitating access to the Internet for all individuals, with as little restriction to online content as possible, should be a priority for all States," stated the United Nations in 2011. Several countries have taken the initiative to write legislative frameworks to declare the Internet as a basic human right, with limited success.
Studies worldwide show that internet access is vital for access to jobs, education, improving worker rights, and ensuring freedom of expression and access to information. Digital inequalities leave those without resources even further behind. Overall, it would appear that equitable and affordable access to data and the Internet remain an important barrier to global development.
How to participate
There's an online commemoration event on February 23rd, hosted by the Permanent Mission of the Kyrgyz Republic to the UN with the International Labour Organization. They will discuss what we can do to overcome inequality in the digital world, responding to the following key questions:
How can the platform economy contribute to the SDGs by providing decent work opportunities, particularly for women and youth?
Which regulatory challenges need to be addressed as part of efforts to build forward from COVID19?
What responses are required at the international and national levels to ensure that they support digital cooperation and contribute to inclusive rights-based and sustainable development?
To register for the event, click here.
Sources: Human Rights Careers - United Nations - ILO - Pachamama Alliance - Alliance for Affordable Internet (A4AI) - Edmundo Rice - OpenGlobalRights - WE Forum